[ad_1]

One year after his 1,250-mile ride to promote wind energy, James Tinjum is again peddling for a cause, embarking on a four-state journey to #BiketheSun.
Tinjum, associate professor at UW-Madison's Department of Engineering Professional Development, departed Madison last weekend for a two-week, 1,250-mile ride through Wisconsin, Illinois, Iowa and Minnesota, touring about 50 solar energy sites and raising funds for a solar installation project in Puerto Rico.
In August 2017, Tinjum completed his #BiketheWind tour to promote awareness and education and continued to train throughout the year for #BiketheSun, during which he is cycling an average of 100 miles a day on a Trek electric assist bicycle, which allows him to pedal at a speed of 16 mph. He expects to return to Madison on Friday.
Arriving in the Viroqua area Wednesday evening, Tinjum stopped at the Liberty Pole DPC Solar farm, the ninth-largest solar farm in Wisconsin, helping power around 1,000 local homes with an annual output of 1,300 kilowatts. Thursday morning, he visited Ethos Green Power, a solar design and installation company founded in 2013. There are 192 solar companies in Wisconsin, and in 2016 homeowners and businesses invested a combined $12.38 million in solar energy, according to RENEW Wisconsin. 
"Ethos is one of those innovative small businesses looking forward to utilize cleaner, renewable sources," Tinjum said. "Across the nation, one of the fastest growing fields (of work) is solar installation technician."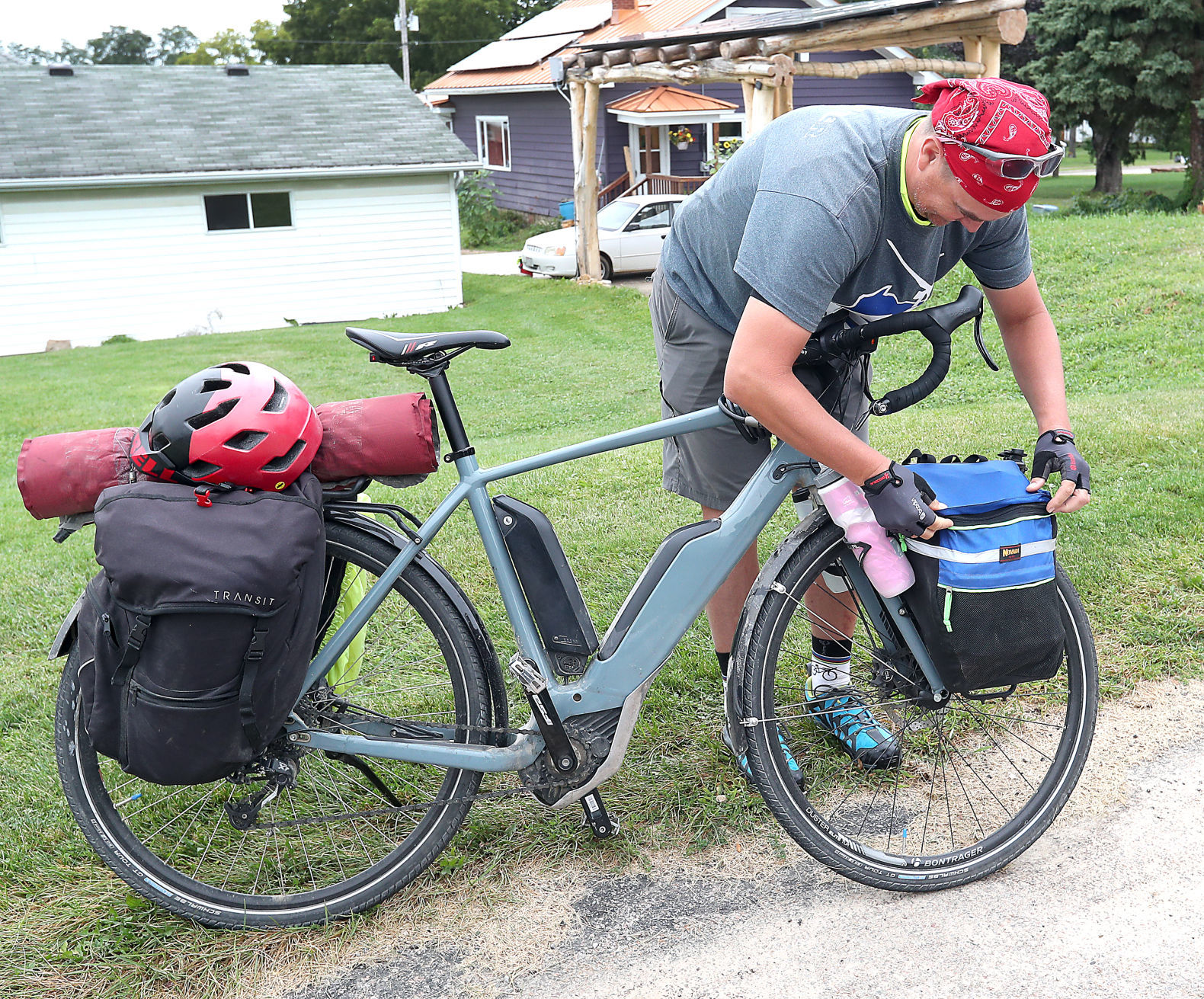 In 2017, around 2.5 percent of the nation's electricity came from solar sources, with wind energy accounting for around 8 percent. The two complement each other when used in tandem, with solar energy peaking during afternoon hours, when energy use is highest, and wind power at its highest in the morning and early evening. At present, implementing wind energy equipment is more economical than building a new coal plant in the U.S., Tinjum said, and "solar will soon be able to compete, even without incentives."
On Wednesday, Tinjum met with the developer of Badger Hollow Solar Farm, which is the largest solar project in development in the state and will use as many as 1.2 million solar panels over 3,500 acres and produce up to 300 megawatts of electricity. Wisconsin has no natural gas, oil or coal produced in state, and solar energy is a way to become independent of out-of-state fossil fuel resources, Tinjum said.
Tinjum is dedicated to helping implement solar energy outside Wisconsin as well, specifically in Puerto Rico. #BiketheSun has an added fundraiser component, assisting the UW-Madison chapter of Engineers Without Borders with the Solar Para Niños project. Sponsored in part by the Puerto Rico Relief Fund of South Central Wisconsin, the project will fund rooftop solar panels for the Hogar Albergue para Niños Jesús de Nazaret shelter, which houses 14 youth who have been removed from abusive homes.
The panels are expected to reduce monthly electricity costs to the building by $1,000, and the savings will be funneled into the shelter's counseling and education services. Tinjum heard about the cause through his fiance, Glorily Lopez, a Puerto Rico native. The couple visited Hogar Albergue para Niños Jesús de Nazaret in May. 
"With the installation and promotion of more renewable sources such as solar energy, institutions like the children's shelter will substantially reduce their monthly energy bill as well as move toward a more sustainable use of energy," Tinjum said.
While home to the largest solar photovoltaic facility and wind farm in the Caribbean, Puerto Rico uses gas, oil and coal to produce over 95 percent of its energy, and its residents have the highest electric bills in the U.S., paying 18.09 cents per kilowatt hour compared with 12.89 cents elsewhere. 
The solar paneling will not only have economical benefits, but provide crucial backup electricity during potentially damaging weather events. Nearly 11 months after Hurricane Maria, Puerto Rico is continuing to recover, having lost its power grid. It took several months for power to be restored to some areas of the island, and in heavy storms there continue to be temporary outages. Organizations and corporations continue to assist with the implementation of solar sources throughout the U.S. territory, testing out microgrids.
"Renewable, distributed energy sources like solar will provide more resilient and reliable power, particularly for when another natural disaster occurs," Tinjum said. 
About $150,000 is needed for Tinjum and 35 students with Engineers Without Borders members to design and configure the 35-kilowatt solar system and battery backup for the shelter, as well as pay local contractors for the installation. Solar for Good has contributed $10,000 to the project, and SunPeak in Madison is providing about $20,000 in materials. Six corporate sponsors, including Westwood Professional Services and WPPI Energy have pledged contributions, and a GoFundMe page is place for private donations.
The project has reached $88,000 in donated money and materials. Tinjum will begin working on the design system with his Engineers without Borders students this fall, with plans to bring the team to Puerto Rico in January to meet with contractors. Completion of the first installment of solar panels is anticipated for spring 2019. 
[ad_2]

Source link
https://northernenergysolar.com/wp-content/uploads/2018/08/5b64e4972024a.image.jpg
630
1120
Admin
https://northernenergysolar.com/wp-content/uploads/2019/05/northern-energy-solar-solutions.png
Admin
2018-08-04 00:29:20
2018-08-04 00:29:20
Madison professor advocates, raises funds for solar power project in Puerto Rico with #Bikethesun | Local